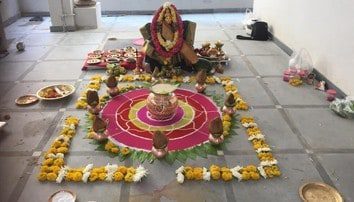 Wedding Rangoli in Austria
We offer best door to door Rangoli design service in whole Austria as a part of Puja.
Wedding Rangoli in Austria
is said to symbolize Prosperity and the word Rangoli is derived from the ancient language of Sanskrit. Rangoli has different names and styles. Our skilled rangoli designers and artists are expert in various styles like Chowk, Dotted Rangoli, Free hand Rangoli, Flower petals Rangoli, Alpana, Wooden Rangoli, Floating Rangoli, Glass Rangoli and Sanskar Rangoli.Chowk Rangoli (available): These designs do not make use of much color, the detailed patterns are enough to attract guests. We use traditional methods to design chowk rangoli. Free Hand Rangoli (available): It is the free style rangoli designs. You can suggest your designs to our best rangoli artists or if you find difficult to select the best design then our expert team will help you to find the best one according to the occasion.Flower Petals Rangoli (available): This is made by fresh attractive flowers, flower petals, leaves or even with rice. Our flower rangoli designs looks so attractive and fresh. Alpana (not available): It is derived from Sanskrit word Alimpan, which means colorful designs. It is the oldest Indian folk art. It is normally designed on entrance wall to welcome guests.Wooden Rangoli: This rangoli is made up of wooden pieces and decorated with colorful mirrors, white pearls, glitters and flowers.Floating Rangoli (not available): The design also known as water rangoli design. We use flowers, floating candles, leaves and flower petals to make colorful water rangoli. They add beauty and help increase the aesthetic appeal of your house.Glass Rangoli (not available): This rangoli is made up of glass mirror pieces and decorated with white pearls and flowers. Sanskar Rangoli ( available): The name given to a particular type of rangoli design made in Maharashtra, India. Its design contains many different variations such as stars,circles,mandalas etc .If you are looking for creative and best Rangoli Designer in Austria then your search ends here because we are the best. We provide easy and quality door to door best Rangoli service in Austria. We will draw it at the entrance of your home and puja spot is considered auspicious.
Let's add more color to your life!!