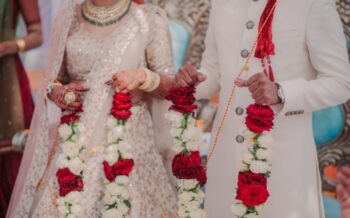 Create a special moment at your wedding
Note: Travel and accommodation expenses are to be paid extra !
Jaimala Garlands in Wien
Jaimala is also known as Var Mala. Create a special moment at your wedding ceremony with beautiful garlands for Jaimala in Austria.We offer best Jaimala for wedding. Like other rituals and ceremony, Jaimala is also an important ceremony which finds references in Vedic literature. We provide best Jaimala for your wedding in the Austria. Jaimala is a flower garland wore by bride and groom during the wedding ceremony . We offer best Jaimala Wedding Garland Service in Vienna for weddings in whole Austria. Jaimala is a flower garland, in your case it will be sewn with roses . Our designs mostly reflect the Indian tradition. Jaimala is part of wedding ceremony where bride and groom exchange the garlands. This ancient custom and rituals is still going on as time progressed. Actually this ritual has its own meaning, when both bride and groom exchange their garlands it means they devote themselves to their partner. Indian wedding is not thought to be completed until both bride and groom exchange their garlands. We make your day memorable by our service as we know it is not just a business but it's about tradition, rituals and feelings. We always use fresh flower. You can choose flowers for preparing garlands of your choice with various types of mixed flower which grabs the attention of crowd.We provide best Jaimala Garlands in Vienna at affordable price. Our Jaimala Services in Austria are provided by our experienced team members who are expert in this field. Our concepts, creativity and themes are outstanding which makes us best wedding garlands service provider in Austria. We focus on attractive and elegant designs and provide personal focus, touch and attention to every detail to make the most beautiful and memorable day of your life. We know how to leave a great and lasting impression. Malas will be combination of red and yellow color roses.