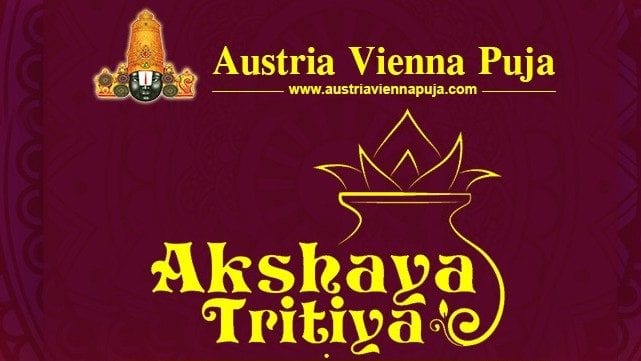 Akshaya Tritiya Puja 2021
7 Pandits included Total 550 Euro.
Video Provided with your name ,Nakshatra,Rashi,Lagna and Sankalpa.
Every year on the Tritiya Tithi of the Shukla Paksha of Vaisakh month, when the sun and
moon are in their highest influence, and when their glory is supreme, that date is considered
extremely auspicious according to the Hindu calendar. And this auspicious date is called
'Akshaya Tritiya' or 'Akha Teej'. It is believed that whatever auspicious work is done on this
day, they get a pleasant result.
Akshaya Tritiya Puja 2021 
Traditionally, this date is the birth date of Lord Parashurama, the sixth incarnation of Lord
Vishnu. Important accounts of Puranas are associated with this date, such as:
Start of Satyug and Tretayuga
The incarnation of Lord Vishnu, an incarnation of Nara-Narayana and Hayagreeva
The emergence of Akshay Kumar, son of Brahma, meaning emerging
Ved Vyas and Sriganesh begin writing of Mahabharata text
The end of the Mahabharata war
End of Dwapara Yuga
Mother Ganga's arrival on the earth.
Pilgrimage centers of Sri Badrinath are also opened for devotees from this date.
Shri Banke Bihari Ji temple of Vrindavan has the darshan of the feet of Shri Vigraha only
once in a whole year.
Akshaya Tritiya is an auspicious date in which there is no need to take auspicious for any
auspicious task, seeing a calendar to buy a new item. Even auspicious works like marriage,
house-entry can be done on this date without seeing the almanac. On this day, the pinddaan, done in the Pitru Paksha also gives a renewable result. In Akshaya Tritiya, pooja
recitation and havan, etc. also give very pleasant results. If a sincere heart apologizes to
God for unknowingly committed crimes, then God forgives his devotees and empowers them
to walk in the path of truth, religion, and justice. The one who knows the importance of faith
in lord will always be successful in life.
Major mythological stories of Akshaya Tritiya
According to a legend, when the Pandavas were in exile during the period of Mahabharata,
one day Sri Krishna, who is an avatar of Lord Vishnu himself, gifted him a renewable
character. It was a character that would never be empty, and with which the Pandavas never
worried about food and, on-demand, unlimited food was revealed from this vessel.
Another legend related to Shri Krishna is prevalent in the context of Akshaya Tritiya.
According to the legend, Sudama, a friend of Shri Krishna's childhood, went to Shri Krishna
on this day to ask for financial help for his family as his family was very poor and struggled
for day to day requirements. Sudama had only a handful of poha as an offering. After
meeting Sri Krishna, Sudama was hesitant to give him his gift but Lord Krishna took a
handful of poha from Sudama's hand and ate it with great fervor. As Sudam was the guest of
Shri Krishna, Sri Krishna grandly received him. Sudama was very happy with such
hospitality, but he did not think it would be appropriate to say anything for financial help and
he left for his house without saying anything. When Sudama arrives at his house, he is
stunned. In place of his dilapidated hut was a grand palace and his poor wife and children
were equipped with new robes. Sudama was not late to understand that this is the blessing
of his friend and Vishnu: Avatar Sri Krishna. This is the reason why Akshaya Tritiya is also
associated with the gain of wealth. If the prayers are done with pure mind than the god
approves them, no hard-working individual will ever suffer if his/her heart is in the right place.
Akshaya Tritiya fast and method of worship
Akshaya Tritiya is one of the most popular Muhurta. On this day, devotees merge in the
worship of Lord Vishnu. Women fast for the prosperity of themselves and their families.
Bathing the Ganges in the Brahma Muhurta should be offered to the idol of Shri Vishnu and
Maa Lakshmi. With a quiet mind, one should worship him with white lotus flowers or white
roses, sun-incense sticks, and sandalwood, etc. Offer barley, wheat, or sattu, cucumber,
gram lentils, etc. as Naivedya. On this day get the Brahmins food and get their blessings.
Also, it is considered auspicious to donate fruit-flowers, utensils, clothes, cow, land,
water-filled pitchers, axes, fans, patches, rice, salt, ghee, melon, sugar, greens, etc.
Akshay Tritiya, of course, should have a Brahma Muhurat on the day of this vrata.
Mantra is of great importance on day of akshay tritiya, here it is: "Mamakhil sin Akshay
purvak gross auspicious fruit. Bhagavad Priti kamanaya devatrya pujan mahan karishye".
Reciting this mantra multiples time will relax the mind and provide freedom from all kinds of
issues. A person needs to keep a pure-heart and mind while reciting these mantras.
Besides, it is very important to donate on this day. This day is auspicious, so even those who
do not donate throughout the year can get inexhaustible fruit by donating on this date. On
this day, Brahma Yajna, Pind Dan, and food should be donated for God, Rishi, Petras. On
this day, water pots should be donated. Donations always turn out in happiness and smiles,
when an individual donates a part of his income to someone then the results are always
positive. Providing someone with something they cannot afford will always make them bless
you and say good words about you. A person who's blessed by others will have everything
in his life.
Also on this date, it will be auspicious to donate barley, wheat, barley, rice, earthen pots, and
fruits. Apart from giving alms, buying, and worshiping for oneself on this day also brings
success and fortune. So these days people believe in land, property, or stock market as well
as investing in real estate, starting a new business. Many people consider it auspicious to
enter the house on this day, as well as to work on Mars. It is also auspicious to buy vehicles
and jewelry on this day as the work done on this day is blessed. So do good deeds on this
day. Do charity because the way good deeds bring good results and bad deeds bring bad
results. So be careful on this day.
We are happy to announce following program for Akshaya Tritiya : Ganapathi Pooja with Gho Matha Puja,Punyahavachanam,Chandi moola mantra 108 times,1x Chandi parayanam (Recited complete 700 shlokas with Kavacham Argalam , Kilakam),Chandi Moola mantram 108 times,Matruka puja,Navagraha puja,Navavarana Puja with Chatushathyupachara ( 64 items ),Shri Yantra Panchamrita abishkekam (sugar, milk, yogurt, ghee, honey) reciting Durga Suktam, Shri Suktam, Purusha Suktam ,Rudra Suktam,Lalita sahasranama stotram.Puja is completed with 108 times recital of Maha Shodasi Mantra,Chandi Kalasha Sthapana,Vishesha Pancamrita Abshekam for Laxmi Mata,Maha Laxmi Shodasa Upachara Puja with 16 items,Maha Laxmi Ashtotarashatanamavali Puja,Dhoopa,Dheepa,Naivedya Seva,Yagya KundaSamskara,Agni pratishta,Yagneshwara Prarthana,Ganapathi 11 x ahutis,Adi devata pratyadi sahita Navagraha 27x ahutis,Durga Suktam homam ahutis for each shloka,Shri Suktam homam, homam ahutis for each shloka,Purusha Suktam homam ahutis for each shloka,Rudra Suktam homam ahutis for each shloka,Rudra Gayatri homam 11 ahutis,Chandi Homam(Maha Kali,Maha Laxmi,Maha Saraswati),Chandi Moola mantra 108 ahutis,Devi Mahatmyam 700  x ahutis,Chandi Mata moola mantra 108 x ahutis,Dampati pooja,Suhasini pooja,Kanya pooja,Brahmachari pooja,Prayaschita ahutis,Kshetrapal and Bhuta baali,Purnaahuti,Pandits Ashirvadam Priest  blessings.